Windows 8 system operates on a compendium of processes and services. Services specifically are vital to execute a login session, as the important drivers and components are loaded through them. In the relevant interface, you can view more than a hundred listings of services. However, not all of these are practical in your situation. Each service facilitates a different activity. Some are used by system itself, while others support user-based processes.
Prior to proceeding this piece for the solution, let be advised to first Scan and Fix your system's concealed disorders which most probably are the problem triggers:
It is possible that some of the services started in the background every time you log in, are not helping you with anything. Despite, these are impairing you by consuming your valuable memory resources to do nothing. Access you background services now, and filter them to help other (required) applications run smoothly.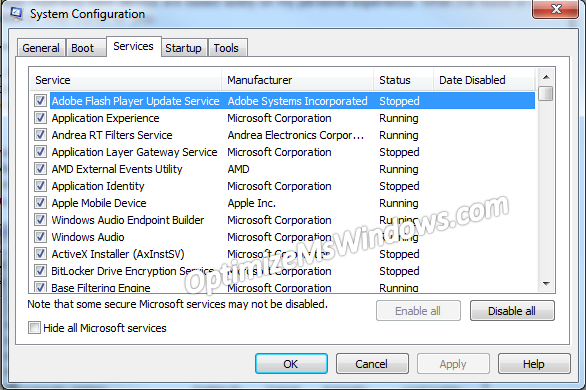 Described below are some of the services involved in Windows 8, which can really act imperviously towards smooth functioning of your system.
Application Experience:
Processes application compatibility cache requests and is mostly helpful in Server systems
Block Level Backup Engine Service:
Known as WBENGINE assists in performing backup and recovery operations. If you are not engaging backup activities, the service is does not need to stay active.
Certificate Propagation:
Deals with digital certificates concerning smart cards only and should be disabled if not employing any smart card
Secondary Logon:
Helps running certain processes via an alternate login. If you are not running processes that require a different user account, disengage the service too.
Server:
Supports data sharing and other activities over a network through the server. In case of no connection to a network or server, the service running in the background is pointless.
TCP/IP NetBIOS Helper:
Also refers to clients, server, and networks. If you do not intend to carry your operations across a closed network (household use), turn off the service to make additional resources available.
Windows Media Centre Service Launcher:
Is helpful while integrating TV with your computer system, using Windows Media Centre. Relate to your own situation and see if it benefits you. If not, let it be disabled.
Windows Search:
Provides content indexing, property caching, and search results for files. Generally, the service is not brought under use, especially when the system is dedicated for gaming purposes. In this context, turning it off would be a wise choice.
Windows Time:
Maintains date and time over the network, synchronized with all clients and servers. If not coupled with any network, the services runs but does not aids a casual user.
How to Disable a Service
Go to Windows Start screen and type msconfig to begin a Search
Right click the search result and choose to Run as administrator
Access the Services tab and locate above given items in the list
Uncheck the check box next the an undesired service
Click OK to apply the changes and Restart your computer to take the effect
Please note that the service can be re-activated anytime through the same channel, just by re-checking the checkbox next to disabled services.
Related Article
10 Windows 7 Services You May Disable to Maximize PC Speed